50Hz Data Rate
Wind speed
Range: 0-45m/s
Accuracy: <1% RMS
Resolution: 0.01m/s
Direction
Range 0 - 360º
Accuracy: <±1º RMS
Resolution: 1º
Ultrasonic Measurement
Ultrasonic sampling rate: 50Hz
Parameters: UVW, Speed of sound
Speed of sound
Range and resolution: 300-370m/s,0.01/s
Accuracy: <0.5%@20℃
Except for connectors, internal wooden partitions and few other small parts, all of the other units of this thermometer screen are made of glass fiber reinforced plastic, which complies with technical requirements in Guide to Meteorological Instruments and Methods of Observation issued by WMO.
Compared with early thermometer screen, performance, appearance and working life of the Thermometer Screen of Glass Fiber Reinforced Plastic has marked significant breakthrough.
Performance: Raise its sensibility by reducing the heat capacity and adding vertical vents and some other measures. In this way, its ability of preventing strong wind, rain, snow and solar radiation is strengthened as well. Besides, service life and appearance are much better than early ones.
Made of molded fiberglass, the thermometer screen which has the advantages of high strength, zero contraction, high consistency, anti-aging, corrosion resistance, little thermal radiation and long useful life, is best observation equipment in outdoor environment.
The thermometer is consist of three major parts: body, connecting frame and column
Body: made of molded fiberglass; uniform in size; increase the accuracy of measurement, while ensure the size of the body is appropriate.


Connecting frame: simple structure, zinc surface with spraying plastic in order to reduce the heat radiation of metal stents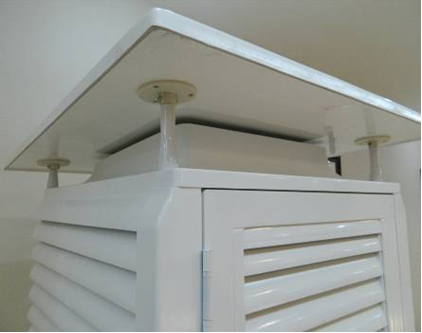 Roof: Glass fiber matrix resin molding process, internal cellular structure, light weight and high tensile strength.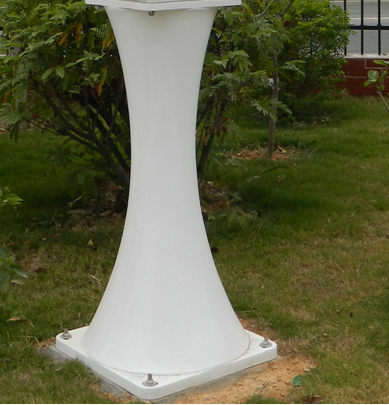 Column: Glass fiber matrix resin molding process, light weight, high strength, arc-track shaped mounting holes, user-friendly installation