Weather Satellites: Forecasting Earth's Weather from Space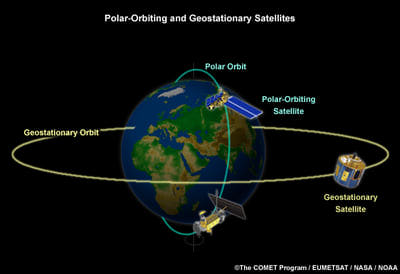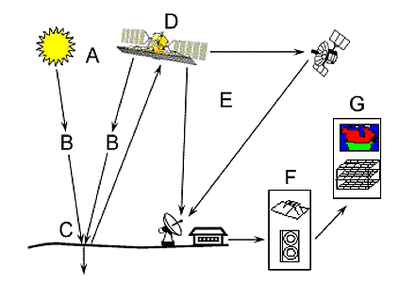 Weather is experienced at all corners of the world, but there are some locations so remote, no observations are measured there. To help remedy these data gaps, we have remote sensing instruments like satellites.
In addition to encouraging weather communication on a global scale, satellites also help meteorologists to spot weather patterns as early as hours to days before being detected by surface observing instruments.
Polar Operational Environmental Satellites (POES)
Launched in 1960, TIROS 1 was the first weather satellite in existence. It was polar-orbiting, meaning it passed almost directly over the North and South Poles.
Today, polar-orbiting satellites still operate out in space. At an altitude 520 miles (833 km) above Earth's surface (this is considered a close distance) they're able to capture high resolution images, but only of a narrow swath of area at one time. Despite these limited snapshot views, polar-orbiters are the only satellite type to give us a complete photo-stitch view of the entire planet. Why is this? Because the Earth rotates west-to-east underneath their orbital path, the satellites drift westward with each Earth pass. (The satellite doesn't physically move but its path moves underneath it.) As a result of this, they never pass over the same location twice within a day. This is good for providing a complete data inventory of global atmospheric going-ons, but bad for tracking the development of individual storms. For this task, one must look to geostationary satellites.
Geostationary Operational Environmental Satellites (GOES)
Six years after the first polar-orbiting satellite was launched, geostationary satellites were put into orbit.
These satellites "sit" along the equator and move at the same rate the Earth rotates. This gives them the appearance of staying still at the same point above Earth. It also allows them to continuously view the same region (the Northern and Western Hemispheres) throughout the course of a day, which is ideal for monitoring weather conditions. However, this perk isn't without its disadvantages. In order for geostationary satellites to keep pace with Earth, they must orbit at a greater distance from it (an altitude of 22,236 miles (35,786 km) to be exact). At this increased distance, both image detail and views of the poles (due to Earth's curvature) are compromised.
The United States currently operates two polar-orbiting and two geostationary satellites. One POES operates during the morning and one during the evening (both are collectively known as TIROS-N); one GOES keeps watch over the eastern (GOES-east) and one over the western (GOES-west) U.S.
More information you can visit the website:http://weather.about.com/od/weatherinstruments/ss/Weather-Satellites.htm